I received my squash book few days ago :D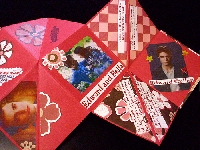 I swap with Swap-bot!
"for this swap you will make 1 squash book for 1 partner. And fill it with your fangirl/fanboy obsessions....you can collage, paint, draw, doodle, write, a mixture of all 4 - whatever you want!
It can be filled with all your major fandom obsessions or dedicated to just one of them.
...
Have fun and make something so awesome it will lure your partner into your web of obsession and have them on livejournal writing slash fanfiction within days :o "
Here:
the cover rulez >8D
I recognised Supernatural, Buffy, The big bang theory, V for Vendetta and The Hitchhiker's Guide to the Galaxy
And here is
the one I made
..
Front cover & back cover
..Supernatural themed!
I used my favourite characters' images and lots of quotes:

Dean
Sam
the Impala & "Saving people, hunting things.. the family business" + "We got work to do" (sorry, crappy pic)
their "tatoo" & "I'm gonna find God!" + "Dean: "I'm batman :D" Sam: "Yeah, you're batman >__> ""
Castiel
and Crowley *w*
It was fun to make and it's always nice to show
some
Spn
love!!
Current music:
Foster the People - Pumped Up Kicks | Powered by Last.

fm