In a rainy and cold day what's better than receive some love from abroad directly in your letter box? :D
Another couple of swaps complete!
Click, Print, Decorate: Free Theme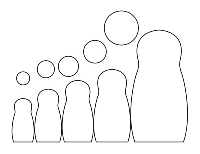 I swap with Swap-bot!
"1 Partner Swap. Go Here:
Pattern
Follow the instructions to print the nesting doll pattern, then geek them out! Im thinking charactors from your fave geeky shows or video games, movies, books... the possibilities are endless! Make all 5 go together somehow though (so if you pick Nintendo, make them all Nintendo charactors and so on)"
So here it is what I received from my nerdy partner from the USA:
She used the Big Bang Theory as theme

By chance I used the same theme XD

See Nesting Doll Card The Big Bang Theory Themed and 1000's of others - or share your own on Cut Out + Keep


Tea time - Europe only
"Okay my swap is about to send 3 different kind of teas to your partners. So you send 3 different teas to partner 1 and 3 different kind teas to partner 2."
Both my partners are from Netherlands
Raspberry and vanilla, I-still-don't-know, orange tea & and as extra chewing gum tea 8D
Ok here I recognized blueberry tea and the other two are still mysterious XD + as extra marshmallow tea >8D
And this is what I sent
Aaah
I really can't wait to try them all!