Here I am with another post. I won't talk about my stuff, so this'd be interesting XD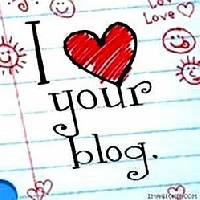 I swap with Swap-bot!
"..go to your partners blog and grab a button, you have to link them in your own blog, so your followers and readers will know your partners later =) Write an entry talking about this swap, and write what you like the most of your partner´s blog."
Aside you can see all my partners' buttons and now I can finally write a review of each one!!
1. Hedgehog + Rabbit
Author: Brooklyne, a crafty, artistic mom that makes awesome handmade items.
I really like the post Brooklyne makes about treasures she finds on Etsy, she always show pretty stuff! I checked out her link page and found some useful things too.
Also follow her advice people:
"So, my recommendation to you? Take a day off."
2. Hippo Fairy
Author: a veeeery crafty girl from California, she's very talented (especially with vampire bunny XD ). She talks about personal stuff and she also post pics about her handmade works and her swap. She also wrote an interesting post about sales lately with some interesting links 8D Very cute the reason behind her name, check it out!
3. Only In Cambodia
Awesome slideshow of photos in this blog managed by an American girl that actually spend her time in Cambodia. I like how she talks about social problems and it's interesting to read her point of view.
I think this quote is a more fair review for this blog:
"
I've always described to people that I knew I needed to return here after visiting in early 2003 because it always felt like I left home and needed to return.

"
4.
Keeping up with the Joneses
Author: Kimberly is another cool, crafty mom that takes care of her 3 boys. In her blog you'll find adorable pics of her little man, giveaway warnings and personal stuff. I also noticed that she get thrilled about contests!
A quote from this blog too that I liked:
"...the blog makes me feel connected to the outside world somehow, which is something many home-school/stay-at-home moms lose sometimes"
5. CF
Author is a girl from Singapore. She talks mostly about personal things and she has a funny photo section and nice to do/goals lists. I especially enjoyed her post "
The Little Book of Big Motivational Quotes"
. Also from her goals page I really agree with this:
"If I can't remember, note them down!".
Seems like I'm not the only one with a bad memory XD
6.
Life in the key of e
Author: Rachel who's a homeschooling mom of a little girl. Going through all these blogs I noticed that homeschooling is a pretty common phenomenon
in the USA. I've never heard about it in Italy, so I got curious and decided to read her post
about this topic:
"
Thinking about homeschooling?
". I found it very interesting, it really seems like a hard "job" to do, but it's nice to read how enthusiastic she's about doing it for her "angel".
7. Riechanster
This is one of the blogs I enjoyed the most, cause I share lot of interests with this girl from Belgium. A Japanese addicted who posts a lot of nice stuff about her own life and her craft. I love her "
photograph friday
", an awesome idea and her
cooking posts
also seems very interesting, I've found a couple of Japanese recipes that I'd like to try. Full of useful links I totally advice to check it out :D