People what do you do when your awesome boyfriend always risks to lose his car key because it's broken and he can't loop a keyring around it?? Well, of course you rack your crafty brain to come up with a cool solution, do him a surprise and save the key!!
This keyring is though to contain, in the zippered pouch, the key!
You Will Need:
Key Ring
Scissors
Zipper
Needle
Thread
Felt
Project Budget:
Free
Time:
4h00
Instructions:
1. This keyring is thought to contain the key (when you can't loop a ring around it cause it's broken or something) so the first thing you need to do is some measuring.
Create a rectangular pattern (mine is 11x16 cm) and draw a straight line in the middle, wide a little more than 1cm (or wider, it depends on the zipper you're going to use). Make sure to leave a couple of cm at the edges.
2. Now, using your pattern, cut two pieces of felt.
3. I had to shorten the zipper a bit before sew it in place, cutting the excess.
4. I sew few stiches to replace the bottom stop.
5. You can place the zipper now.
Lay one piece of felt (right side down) on your working table and place the zipper on it, then place the other piece on top (right side up), so that you can see the zippen showing in the opening.
6. Pin the zipper at its ends and sew all along the opening. Make sure to poke the needle through the front piece of felt, the zipper and the inner piece.
7. Draw a key now! I googled for some inspiration..
8. Embroider a smiley mouth and two eyes with black thread and adjust a bit the silhouette, if needed.
I also added blushing cheeks with make up.
9. Place the key on the front piece of felt and sew it in place (sew through just the front piece).
10. The key looked a bit lonely, so I decided to add some little spirals.
I drew them of the wrong side of the front piece to have a guide while sewing..
11. ..then I took colorful threads and embriodered them all around the key.
12. To finish fold your pouch in half and close it sewing all around it (make sure to sew all the 4 layers) with a blanket stitch.
13. Put a ring in the pull tab.
14. And you're all done.
Linking up @:
++
++
++
++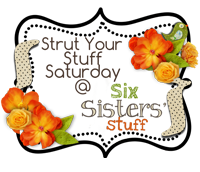 ++

++
++
++
++
++