Here we go with the second part, decoration and goodies.
a. Halloween key chains:
I googled to find some cute images. For this project I used
Kawaii Halloween time
.
Few simple steps:
- print the images you're going to use and cut them. You can make the key chain double face if the image's shape allows you to do so (as for the coffin) or you can leave the back blank (as for the cat).
- lay you image on a piece of cardboard (I used black one) and draw the outline. Cut it and do this one more time.
- take your image again and place it on a piece of clear plastic sheet and cut out an approximate shape with a couple of extra cm. Do this twice.
Now you'd have 2 pieces of cardboard, 2 pieces of plastic and 1 or 2 images (it depends on its shape).
- to assemble you'd make a sandwich with plastic (back) + image (back) + cardboard (back) - you may want to put something fuzzy at this point to make the key chain soft and add volume (I used some cotton) - cardboard (front) + image (front) + plastic (front)
- at this point, holding everything together, take some thread and sew the outline of your image, without poking your needle through the paper, take just the plastic. Remember to make a loop for the jump ring that you'll use to attach the key chain (I did it on the top).
- once you're done, cut the eventual extra plastic following the original shape of the image and make a little hole in the loop. Attach the key chain and braid a little ribbon through it. Secure with few stiches a little bell at the end and you're done!
b. Halloween goodies:
These were very simple. I made them out of felt and stuffed them just like they were plushies, then blanket stiched the outlines.
I attached a jump ring at the hello kitty to make a necklace, a safety pin to the ghost to make a brooch and I glued a hair pin to the bat to make a.. well, hair pin xD
Image used as pattern:
Cute Halloween designs
.
c. Door hanger:
I also made this door hanger as a present for my aunt who likes to decorate her home for the occasion. It's a version of this
tutorial
.
Linking up @:
+

+
+
+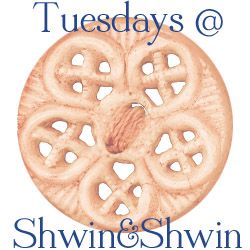 +
+
+
+
+